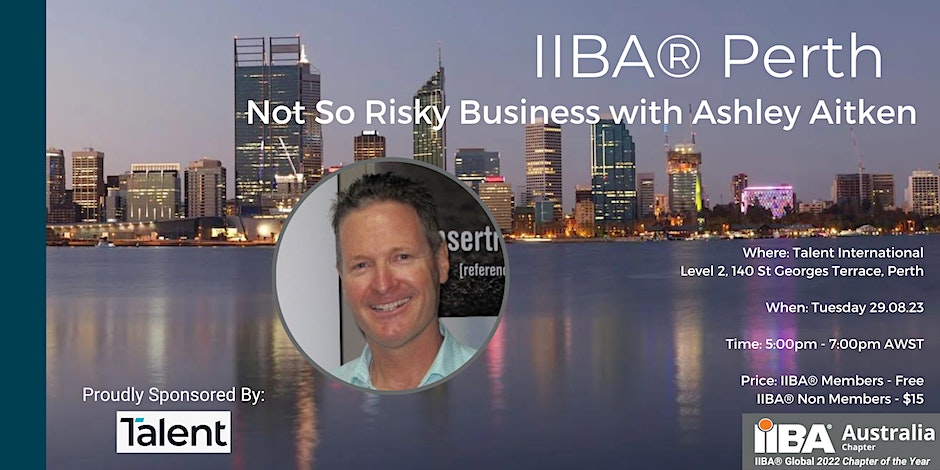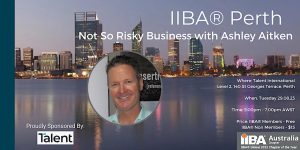 IIBA® Perth – Not So Risky Business with Ashley Aitken
A networking event and presentation discussing assessing the risks related to confidentiality and critical information in organisations.
It's risky doing business these days, with so much confidential and critical information being kept online. Employees use many different applications to process, store, and receive information (some in the cloud, some on the desktop, some still manually performed with pen and paper). This talk will describe how to create a model of information that flows within, through and external to an organisation. The model can be used to identify business information at risk and all the business applications that are being used, especially those that need to be better managed.
This is a model that all Business Analysts should have in their toolkit. It is also what all organisations should be using to ensure there are no leaks of confidential or critical information (before they happen!) and that all applications (formally and informally) used within the organisation are tracked and properly managed.
Learning Objectives:
Learn the basics of how to identify business information flows, model a few in their own organisation, and understand what sort of analytics a complete business information model can provide to help an organisation track down business information vulnerabilities and risks.
Speaker Bio – Ashley Aitken:
Dr Ashley Aitken is an experienced business analyst, software engineer, entrepreneur, and trainer with over 25 years of IT expertise. He has a PhD in Computer Science and Software Engineering and specializes in Business Information Systems, enterprise software development, startups, corporate innovation, and AI. Ashley has two consulting businesses: Running Code Productions, which helps businesses with software development and professional training; and Innovately.com.au, which assists organizations in using Lean Startup and Customer Development to identify new business opportunities. He has received recognition for his teaching, research, and industry training from various institutions, and has delivered IT courses internationally.
Sponsored by Talent International
Talent is a global technology and digital recruitment specialist committed to creating a better world of work for all. From simple beginnings in 1995, Talent now connects thousands of tech and digital professionals annually with a diverse range of organisations through its offices across Australia, NZ, the UK, Germany and the US.